Spring has Sprung! Let's Dance!

www.BlueSkyFestivalsAndEvents.com/chico-spring-jam
Gold Coast Casino presents CHICO SPRING JAM 2023 sponsored by GMC of Chico.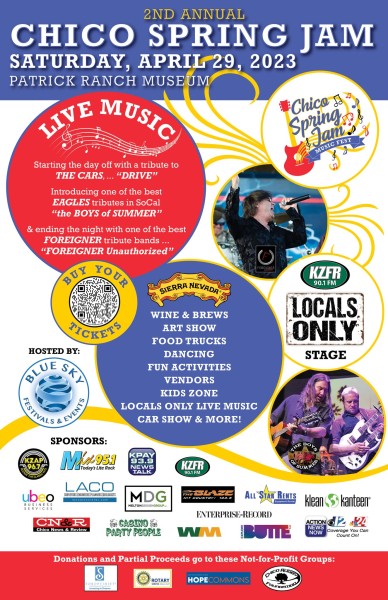 An All-Ages "Fun-Food-Music Festival - Celebrating All Things Spring." Chico Spring Jam is our annual kick-off event Celebration! The event happens on the last Saturday of April – April 29th from 1 - 9 pm at Patrick Ranch Museum, Chico/Durham, CA
The 2nd Annual Chico Spring Jam is a chance to gather again and enjoy each other's company under the Blue Skies. The scene is set with around 1,000 + people, Live Music, Cold Craft Beer, Great Food, Craft & Art Vendors and Tons of
Activities for all ages... Including 6 Bands of Live Music, Gambling Tables, Ping Pong, Cornhole Tournament, Home Brew demo and so much more. Blue Sky's Event Coordinator Forrest Melton states, "Imagine a warm spring day, great food, drinks, vendors, games and the sounds of your favorite tunes by The Cars, Foreigner and The Eagles tribute bands filling the air!
Also, KZFR will be hosting the Locals Only Stage hosting River Road Band, Yurkovic and Loki Miller, join us, it's going to be great fun!
The event is being sponsored in-part by the Sierra Nevada Brewing Company, they will be sharing their new "Liquid Hoppiness" along with several of your other favorites. Blueberry Wine Spritzers will also be poured with Chardonnay, Zinfandel and Merlot wines.
The Chico Rugby Foundation is our official event charity and hosting Athletic Youth Sponsor. Donations will be made to the Youth Rugby program and also to the Soroptimist Bidwell Rancho Club and Hope Common Church. The Chico Spring Jam also has many great media sponsors including KZAP, KPAY and Mix 95.1, KZFR, Action News Now Channels 12, 24 and CW10 and The Chico News and Review, Fox 20, KRCR 7, MyTV, the Lotus Guide and Chico Enterprise Record.
Additional sponsors include: GMC of CHICO, GOLD COUNTRY CASINO &RESORT, Melton Design Group, LACO Associates, All Star Rents, Klean Kanteen, Waste Management, Dragon Graphics, Johnny on the Spot, Chico Chamber of Commerce, and Explore Butte County.
General Admission Tickets are sold for $40, VIP Tickets for $100, Tweens & Teens are half price and all Children 10 and under are free. We also give away FREE tickets to anyone who has a birthday in April. The Chico Spring Jam will be hosted at the historic Patrick Ranch Museum, on the border of Durham and Chico City Limits. The formula is perfect ... Festive party music, great food and drink, vendors, and a variety of games and entertainment for all ages !
Please Like and Share from our Facebook and Instagram pages www.Facebook.com/BlueSkyFestivalsAndEvents/
See the website for Special Discounts for Early Bird sign-ups, Birthday Parties & Small Groups.
Come Join Us to Celebrate your "All Things Spring!"
Blue Sky Festivals and Events - Forrest Melton and Peter Melton
949-891-3254 and 530-680-5550 Bl[email protected] and [email protected]