KZFR & Butte Environmental Council are proud to be bring author, educator, environmentalist Bill McKibben to Chico on Fri, June 5th at the Chico Masonic Center, 1110 W East Ave., Chico CA.

McKibben, who has organized climate actions and rallies around the world will speak on the topic, "Updates from the Front Lines of the Climate Fight ."
Tickets can be purchased on Brownpapertickets Here This is a General Admission seated show.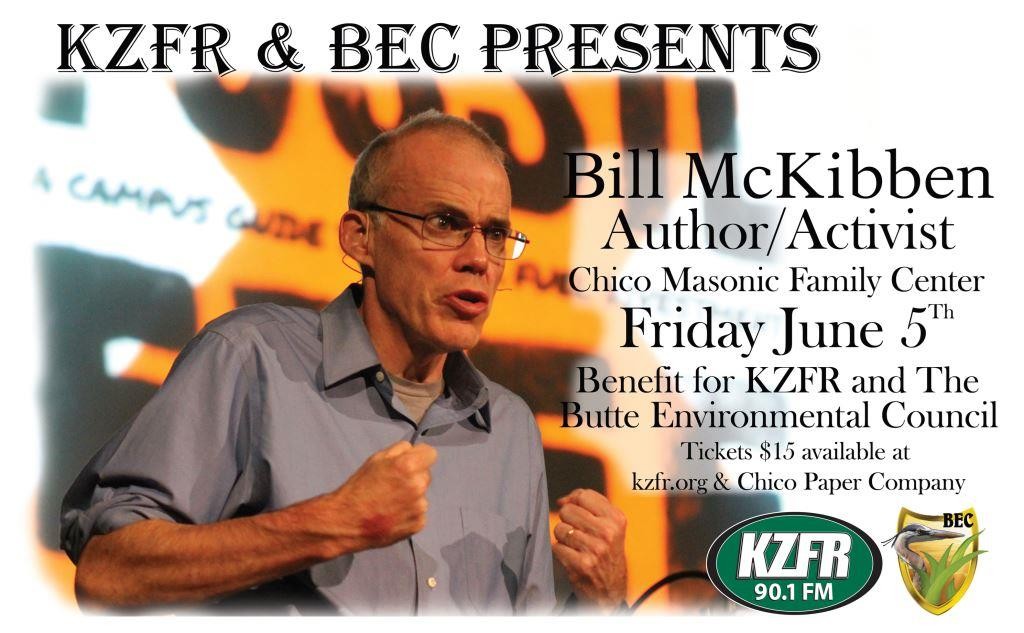 About Bill McKibben:

Bill McKibben is an author and environmentalist who in 2014 was awarded the Right Livelihood Prize, sometimes called the 'alternative Nobel.' His 1989 book The End of Nature is regarded as the first book for a general audience about climate change, and has appeared in 24 languages; he's gone on to write a dozen more books. He is a founder of 350.org, the first planet-wide, grassroots climate change movement, which has organized twenty thousand rallies around the world in every country save North Korea, spearheaded the resistance to the Keystone Pipeline, and launched the fast-growing fossil fuel divestment movement.
The Schumann Distinguished Scholar in Environmental Studies at Middlebury College and a fellow of the American Academy of Arts and Sciences, he was the 2013 winner of the Gandhi Prize and the Thomas Merton Prize, and holds honorary degrees from 18 colleges and universities. Foreign Policy named him to their inaugural list of the world's 100 most important global thinkers, and the Boston Globe said he was "probably America's most important environmentalist."

A former staff writer for the New Yorker, he writes frequently for a wide variety of publications around the world, including the New York Review of Books, National Geographic, and Rolling Stone. He lives in the mountains above Lake Champlain with his wife, the writer Sue Halpern, where he spends as much time as possible outdoors . In 2014, biologists honored him by naming a new species of woodland gnat— Megophthalmidia mckibbeni--in his honor.
Quotes from Bill McKibben:
There is an urgent need to stop subsidizing the fossil fuel industry, dramatically reduce wasted energy, and significantly shift our power supplies from oil, coal, and natural gas to wind, solar, geothermal, and other renewable energy sources.
A spiritual voice is urgently needed to underline the fact that global warming is already causing human anguish and mortality in our nation and abroad, and much more will occur in the future without rapid action.
Most of the men and women who vote in Congress each year to continue subsidies have taken campaign donations from big energy companies.
...[I]t's okay to invest in companies so long as they stop lobbying in Washington, stop exploring for new hydrocarbons, and sit down with every one else to plan to keep 80 percent of the reserves in the ground.