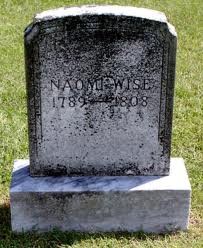 Oh, listen to my story, and I'll tell you no lies,
How John Lewis did murder poor little Omie Wise.
When Naomi Wise was murdered by Jonathan Lewis and tossed into a moving stream the story of her death quickly entered America's vast assembly of folklore. The murder began its literary journey as a broadside (ie. current event) ballad sometime after 1808. Songs, stories and narrative poems propelled the sorry tale from community to community through two centuries of telling.
All of North America eventually knew the story (by a number of different titles: "Naomi Wise", "Little Omie", "Oxford Girl" or "Tragic Romance") but only the town of Randleman, North Carolina could embrace the murder as its own. And it did. Not only is Naomi's grave located in Randleman but the town has named streets, churches, even mills and manufacturing plants after her. It's river is spanned by the Naomi Bridge and down stream its waters tumble over Naomi's Falls.
While modern interpreters of the story may not be telling any lies, like that other broadside murder ballad "Tom Dooley" much of the story's historic foundation has crumbled away with each generation of telling. Much of what is recounted in the various storylines is questionable and filled with supposition. That's why it's called folklore.
The folklore generally goes like this: Naomi was an orphan girl who was taken in by a Randolf County farm family. The teenage Naomi fell in love and began an affair with Jonathan Lewis. Not only was he older but Jonathan was also involved with Hettie Elliott who came from a more wealthy and prominent family. Naomi found out about Jonathan's courtship with Hettie but continued her pursuit of Jonathan. Sometime in April, 1808 Naomi went missing. Her family searched for her and followed horse tracks to the vicinity of Asheboro where they found her body in the river. A local resident told them that she had heard a woman's screams in the middle of the night. The coroner reported that she had been beaten and drowned and had been pregnant. Jonathan Lewis was arrested and jailed but he escaped a month later. He went to Kentucky where he started a family. Six years later he was discovered there and re-arrested, put on trial and found to be 'not guilty' even though everyone knew he did it. When he died just a few years later he confessed to the murder on his deathbed.
That's the folktale as recalled in stories, poems, and songs. Here is what is actually known, the established documentary facts about Naomi Wise (1789?–1807) and Jonathan Lewis (1783-1817):
At the time of her death in 1807 Naomi had two children, Henry age 4, and Nancy age 9. There is not a record of her being married but the "Bastardy Bonds" for Nancy and Henry can be found in the Randolph County papers at the N.C. State Archives. Following the child support laws of the time Naomi had charged each father with "begetting a child on her body;" and each man had to post a bond publicly insuring that the county would never have to pay to support the children. That's the extent of our documentary knowledge of Naomi.
Of Jonathan we know a bit more, mostly due to his criminal record. He was born in April, 1783 in Randolph County, North Carolina, the second child of Richard Lewis and Lydia Field. In March, 1807 the Randolph County Superior Court Minutes record states: "The Grand Jury returned a bill to the Court against Jonathan Lewis for Murder….." Witnesses for both sides were summoned and a trial date of October 26, 1807 was set in the Guilford County Superior Court. Jonathan was arrested on April 8 and locked in the Randolph County jail. A pre-trial hearing was held October 5 and he was indicted for the "murder of Naomi Wise, a single woman." On October 9, he escaped from the jail. Several men including the Sheriff were arrested for aiding his escape. He remained a fugitive until the fall of 1811 and just prior to his capture he had married Sarah McCain in Clark County, Indiana. When he was re-captured (perhaps because of the public record of his marriage), the conspirators who helped him escape in 1807 were granted clemency by the Governor. On October 4, 1813 Jonathan Lewis finally went to trial. He was acquitted of murder (or the charges were dropped) but was convicted of escaping from jail. He was given 30 days and paid a fine. After his release, he had two children with his wife Sarah, and then died in April, 1817. And that is the sum total of knowledge regarding Jonathan Lewis.

In 1952 a long narrative poem that dated from the early 1800's was discovered tucked in a book that had been donated to the UCLA library. It was handwritten by Mary Woody (b. 1801 in North Carolina) and titled "A true account of Nayomy Wise." It starts:
"To such as hear and wants to know
A woman came some years ago
Then from a county named by Hyde
In Randolf after did reside
And by some person was defiled
And so brought forth a bastard child
She told her name Neomy Wise
Her carnal conduct some did despise"
The poem provided much more cultural and social context than the few old newspaper accounts, published stories, oral recollections and court papers that previous researchers depended upon to recreate and understand Naomi's story. Using Woody's poem as a starting point, folklorist Eleanor Long-Wilgus delved into the Piedmont culture that surrounded and influenced the events chronicled in the folktale.
When she was finished with her research, Ms. Long-Wilgus wasn't so apt to assume that the folklore that had evolved out of the death of Naomi Wise was accurate. The age of Naomi's children raise questions about the commonly accepted year of her birth. It is quite possible that she was much older than Jonathan, not younger. The fact that she has children without a husband put her at a distinct disadvantage in Piedmont society where one of her few options to help her get ahead and provide for her children would have been to claim in court that a specific man was the father of her children. If successful the county's "Bastardy Bonds" would help secure financial payment from him. Since any court decisions back then would be based upon purely circumstantial testimonial information she may have had a good case against Jonathan. If it was a false accusation or if Naomi did not want to settle this time for "Bastardy Bonds" and instead wanted to get married, then Jonathan had reason to not take the charges lightly - thus his motivation to kill her. Once jailed, Naomi's past history may have gained Jonathan some sympathetic support in his efforts to escape and it may also have influenced the final disposition of the charges against him.
Poor Naomi was clearly a victim but despite the sympathetic telling of her story that survived into the 21st century, she may not have been perceived at the time of her death as naïve, unblemished and as innocent as the later folktales and songs imply or assume. Folklore doesn't sanitize but it does tend to simplify. Multi colored events get reinterpreted through a black and white lens with the subtleties and nuance of cause and effect reduced to the most basic logic in the name of empathy and a compelling storyline; both of which contribute to this song's enduring history.

Photo: Naomi's grave - Date of birth is questionable, date of death is incorrect.

Sources:
Eleanor R. Long-Wilgus "Naomi Wise, Creation, Re-Creation and Continuity in an American Ballad Tradition" Chapel Hill: The Chapel Hill Press (2003).
Mac Whatley "Naomi Wise" http://randolphhistory.wordpress.com/2009/06/03/naomi-wise/
On American Pastimes: A sampling of versions that may include Doc Watson, Kilby Snow w/Hazel Dickens & Mike Seeger, Bob Dylan, The Lilly Brothers, Pentangle, Mountain Home, and Julie Doiron & Okkerville River.
Playlist:

Steve Lewis "Alabama Jubilee" from Alabama Jubilee
Lindsey Lou and the Flat Bellies "Everything Changed" from Ionia
The Early Mays "Lonesome John" from The Early Mays on The Early Mays
The Stray Birds "Pallet" from Best Medicine on Yep Roc Records
Flagship Romance "A Strange Thing" from Fee Fie Foh Fum on Gatorbone Records
Si Kahn and the Looper Brothers "To Hear Doc Watson Play" from Aragon Mill: The Bluegrass Sessions
Doc Watson "Liza Jane / Lady Be Good" from Flatpicking Festival
Doc Watson "Little Omie" from At the Newport Folk Festival
Brothers Comatose, The "Legacy" from Songs From the Stoop
Pharis and Jason Romero "Goodbye Old Paint" from A Wanderer I'll Stay
Black Lillies, The "By the Wayside" from Runaway Freeway Blues
Flatt And Scruggs "Dig a Hole in the Meadow" from 20 Greatest Hits on columbia
Lilly Brothers "Tragic Romance" from Early Recordings
Dreadful Snakes, The "Whose That Knockin' On My Door" from The Dreadful Snakes
Kelly Bosworth "Wayfaring Stranger" from Kelly Bosworth on Kelly Bosworth
Steve Lewis "Sweet Georgia Brown" from Sweet Georgia Brown
John McCutcheon "What We Want" from Joe Hill's Last Will on Appalsongs
John McCutcheon "Overalls & Snuff / The Connaughtman's Rambles" from Joe Hill's Last Will on Appalsongs
John McCutcheon "Where the Fraser River Flows" from Joe Hill's Last Will on Appalsongs
Sue Massek "I'm Going to Organize" from Songs from Precious Memories by Si Kahn
Si Kahn & The Looping Brothers "Blue Ridge Mountain Refugee" from Aragon Mill on Strictly Country Records
Laurie McClain "Welfare Game (Live)" from Live At the Purple Moon 1995 on Laurie McClain
Peter, Paul And Mary "Geraldine and Ruthie Mae (Live)" from Discovered: Live In Concert
Bill Baker "Naomi Wise" from Smithsonian Field Recording
Bob Dylan "Omie Wise" from Live in NYC 1961
The Pentangle "Omie Wise" from Reflections
Tony Rice Unit "Beaumont Rag" from Unit of Measure on Rounder
Freight Hoppers "Shortening Bread" from Waiting On the Gravy Train
Taj Mahal & Nitty Gritty Dirt Band "Fishin' Blues" from Will the Circle Be Unbroken, Vol 3
David Bromberg Quartet "Dark Hollow (Live)" from Live In New York City 1982 on Appleseed