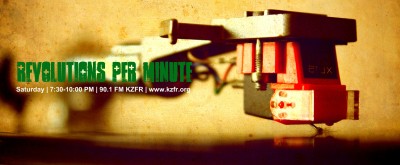 Revolutions Per Minute
A musical revolution that's bound to take you out of Squaresville and drop you right where you need to be – amongst the independent and obscure, the eclectic and the unreleased, the B-side and alternative mix.
Raise your fist and your volume level with Revolutions Per Minute.
Indie / Alternative / Punk / Obscura
Featured artists include but not limited to - Government Issue, Beastie Boys, High Violets, Thee Oh Sees, Husker Du, Poison 13, Generation X, Quilt, Made in Japan, Face to Face, Nirvana, Caveman, Bikini Kill, Volcano Suns, Nation of Ulysses, Sense Field, Lucky Scars, Son Little, Syd Arthur, Baseball Project, Dr Dog and so many more!
Saturdays

,

7:30pm

–

10:00pm