Shirley McCoy, KZFR programmer, office assistant & blues fan, is heading to the High Sierra Music Festival in Quincy! As a representative of The Mighty Zephyr, she'll be bringing you interviews with many of the talented musicians performing this year.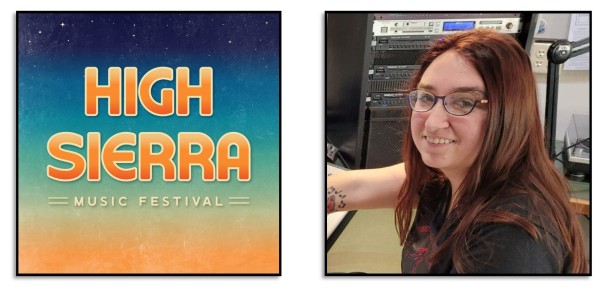 "I've never been to High Sierra or any other music festival, believe it or not. I am pretty stoked to get the opportunity to go and represent KZFR there. I know that it's a festival that is a favorite among many of our listeners. I have not heard of many of the bands or groups performing but I think that will be the fun of it- discovering some new acts and getting excited about them, and then being able to share that with our listeners who might not be able to make it to the festival in person.
It's going to be a major project but I am optimistic that this will be the first of many undertakings like this. I hope that people will tune on in for the KZFR Live from the High Sierra Music Festival experience.
On June 24th, I'll be airing an episode of Studio 416 featuring Sierra Hull and also Jeremy Garrett from the Infamous Stringdusters band, who will both be at High Sierra this year.
On July 1st, you'll hear interviews we will have captured during days 1 and 2 of the fest on Studio 416.
I think I'll be most looking forward to catching Jerry's Middle Finger, Dumstaphunk, and I'm curious to see the guitar chops on this Marcus King fellow. I hope it will be as fun to listen to and follow on social media as it will be for me to be there!" - Shirley McCoy