EarthKry is back for another night of earth-shattering Reggae music at the Chico Women's Club!
Doors open at 6:30pm, Show starts at 7:30pm $20 Presale tickets available on Eventbrite and our downtown Chico office or $25 at the Door.
KZFR volunteers will be serving up Sierra Nevada Brewery ales, wine, hard ciders, soda & water for purchase at the no-host bar. All funds raised at this event support KZFR 90.1 FM Community Radio. Serving the Sacramento Valley, the foothills, and beyond since 1990.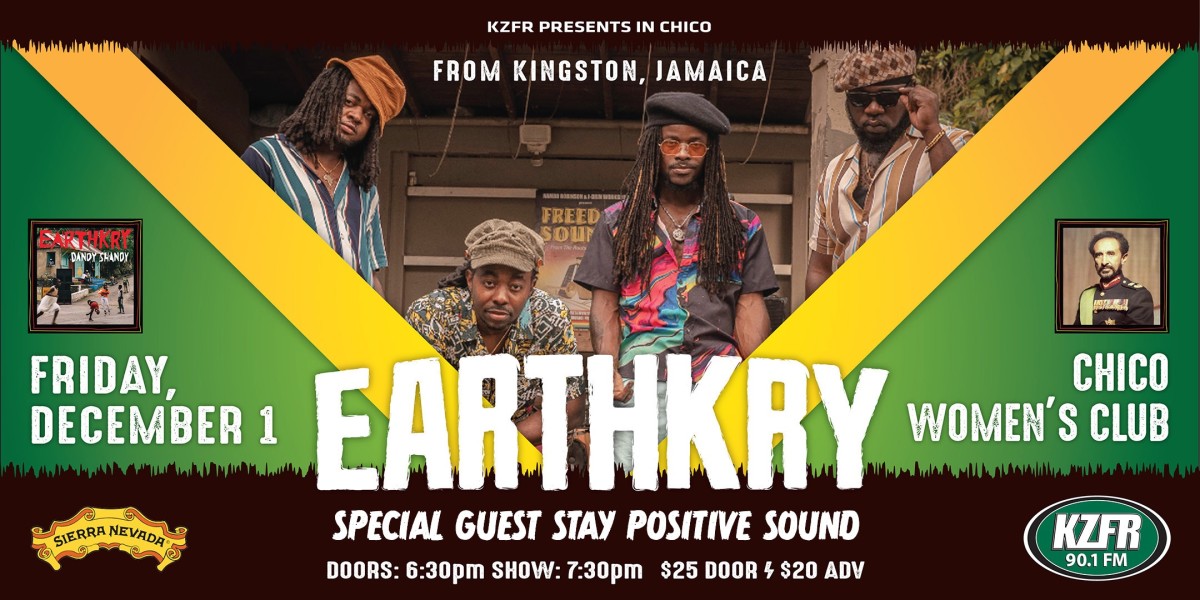 Their journey began with a twist of fate which brought together keyboard player Phillip Mcfarlane , drummer Kieron Cunningham, bass guitarist Kamardo Blake and vocalist/guitarist Aldayne Haughton, to play a series of small gigs. Drawing inspiration from Bob Marley and The Wailers, The Beatles, John Holt, Peter Tosh, Jacob Miller, Black Uhuru and Steel Pulse, the group soon cemented a wholesome fusion of Roots Reggae, Souls and Rock genres for a fresh but universal sound. Much like the iconic reggae outfit The Wailers, the band chose its name, EarthKry, to signify its mission to voice the grievances of the downtrodden through the vibrations of their legacy music.
Since 2013 the band has spent much of their time creating music with other notable artistes in recording sessions while further developing their signature sound. Through the guidance of veteran drummer/ lecturer Derrick Stewart, veteran trumpeter Nambo Robinson, guitarist/former tutor Maurice Gordon and producers Stephen Stewart and Sam Clayton, the band has since released a successful debut EP "Hard Road", an acclaimed, worldwide top charting debut album "SURVIVAL" and have toured extensively on some of the biggest international stages.