IT TAKES A COMMUNITY FOR A COMMUNITY RADIO STATION TO THRIVE
Listener support has been essential in KZFR's success over the past 32 years. It's thanks to you that KZFR is an independent source of news, diverse music and cultural content for the communities of the North State. Without you KZFR wouldn't be the valued, community resource that it is. This is only possible thanks to the ongoing support of music and information lovers like you.
During our Pledge Drives, everyone at the station pulls together to raise the necessary funds that keep us on the air. We'll be posting more details soon about the special shows our programmers are planning for you and the cool thank you gifts that'll be available to everyone who pledges their support to the Mighty Zephyr.

Volunteering is a great way to support community radio! It takes a lot of volunteers to run a pledge drive... answering incoming calls, processing pledges, assisting in the office and more.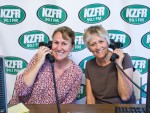 Attn: Local Nonprofits!
For each shift that you fill with 2 Volunteers, you'll have the opportunity to go on air during your shift to talk about your organization's mission, needs and upcoming events.
Anyone who is interested in volunteering, please, contact our volunteer coordinator at: leah (at) kzfr.org for more details or complete our Volunteer Questionnaire and she'll follow up asap.
Your volunteer time helps keep community radio independent & strong here in the North State. Which helps give everyone in our diverse community a chance to be heard.